Tanks risers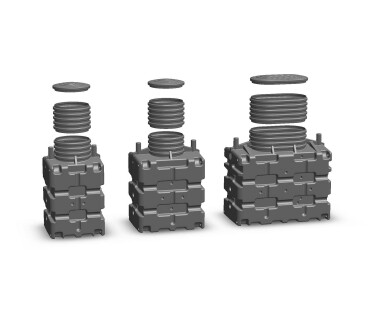 BIOROCK offers extension sets for all tanks.
BIOROCK recommends a careful use of extension sets as deep installations require particularly special installation care.
Available extension sets
Length
mm
Height
mm
Weight
Kg
Tank
1500L
Tank
2000L
Tank
3000L
Tank
5000L
Regard
400
Regard
400-5000
Extension set 700
P-BIO0049
700
600
13
x
x
Extension set 1250
P-BIO0046
1250
600
17
x
xx
Extension set 400
P-BIO00152
400
600
4
x
x
Kit prefilter extension
P-BIO0065
x
x
x
x
The tanks of the BIOROCK Reactors (ECOROCK-1500, 2000 & 3000) and the Primary tanks (BIOROCK-ST series) have a standard integrated extension set with a height of 600 mm. These extension sets can be shortened by cutting them.
---